So, how was the ORCA experience?
Let's start with the installation:
The Orca core comes with a standard NMEA2000 connector, so in order to plug it into your Raymarine, B&G, or other backbone, you will need a converter wire or connector that allows you to plug the Orca core's NMEA2000 plug into your backbone.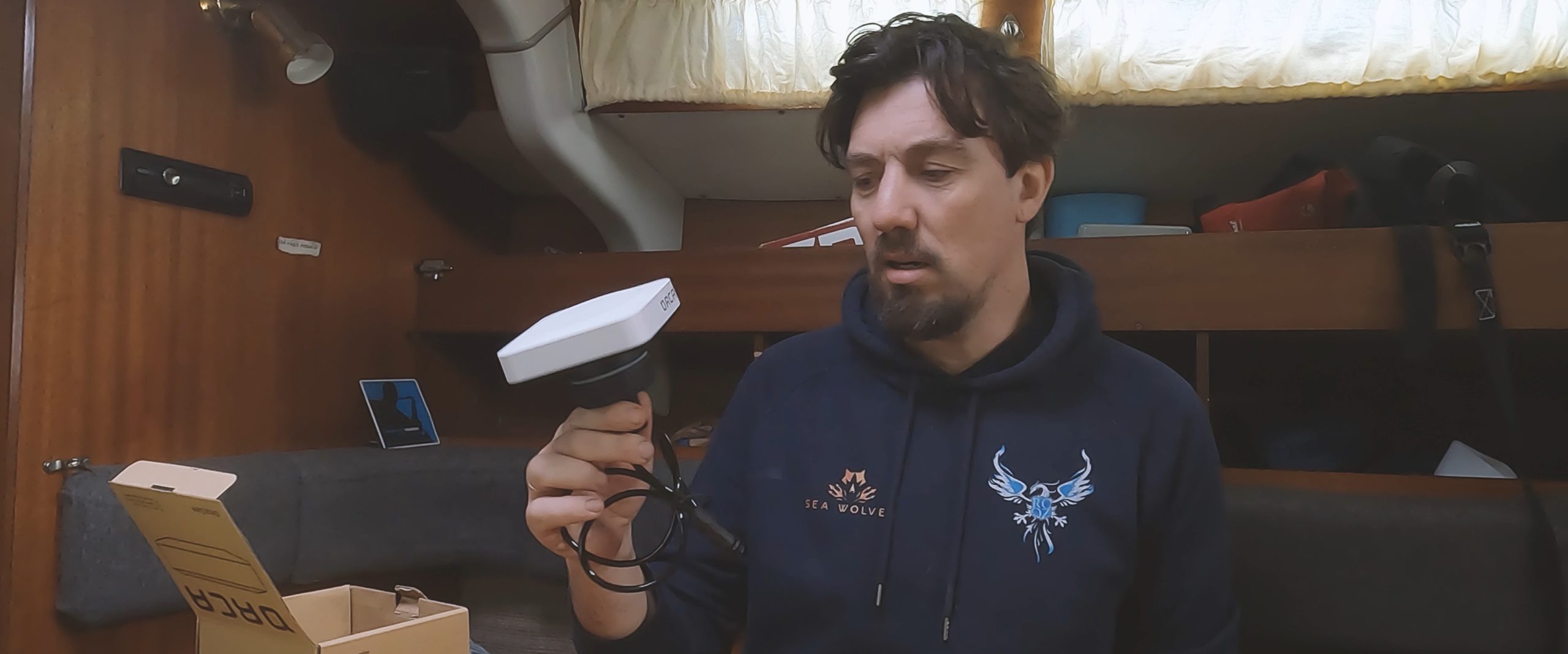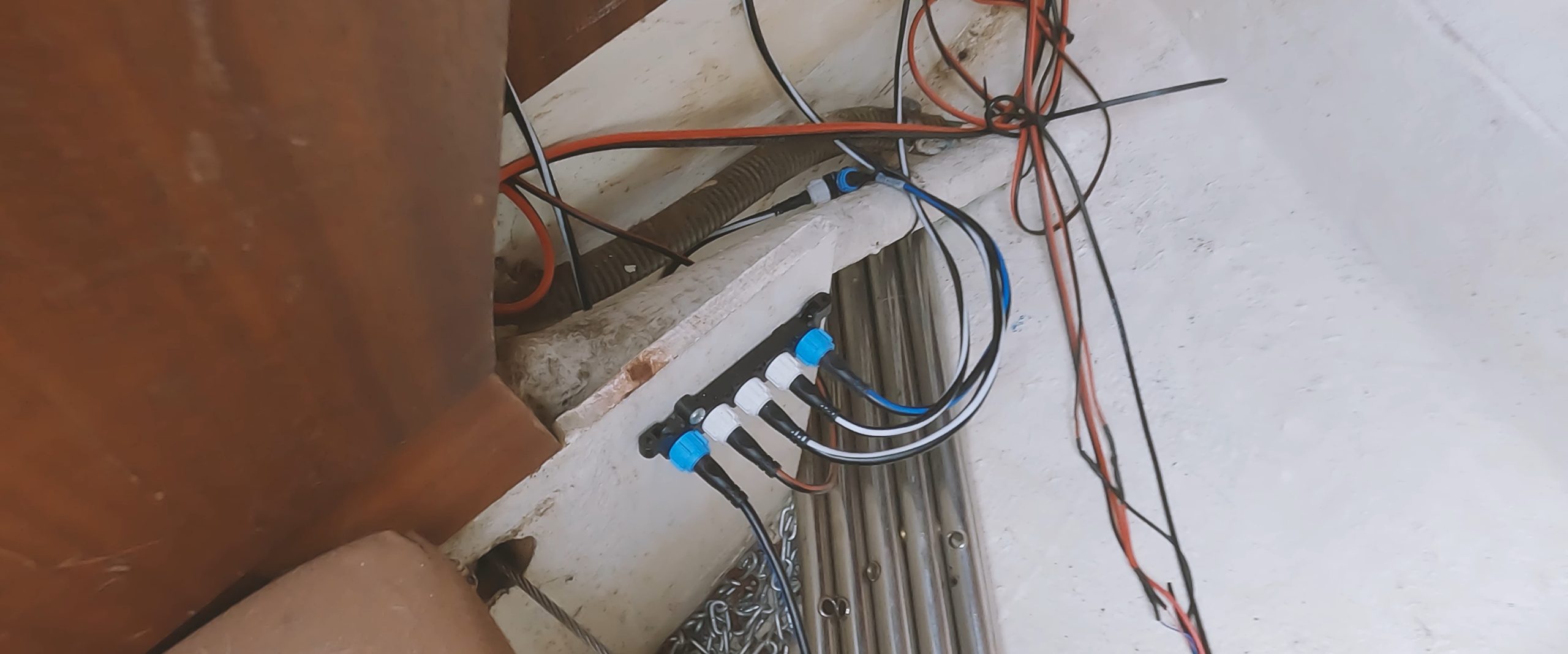 Placing the Orca Core is easy. You can either drill a single hole and secure it using the big plastic screw on the bottom of the unit, or you can use the provided industrial bonding pad to stick the core upside-down or vertically on any surface. Just make sure to place the core at least 1m away from any other compass or GPS antenna device to avoid interference.
There is no separate power supply for the core. It gets its power from your backbone.
Once you've placed the core and switched on the power to your backbone, the unit will come online through both Wi-Fi and Bluetooth connections. To get started, download the app on your phone and tablets, and open it. If a core is available nearby, it will automatically recognize it and connect to it, or it may prompt you to connect. If the software inside the core needs updating, the app will prompt you to update it when it detects a good enough internet connection.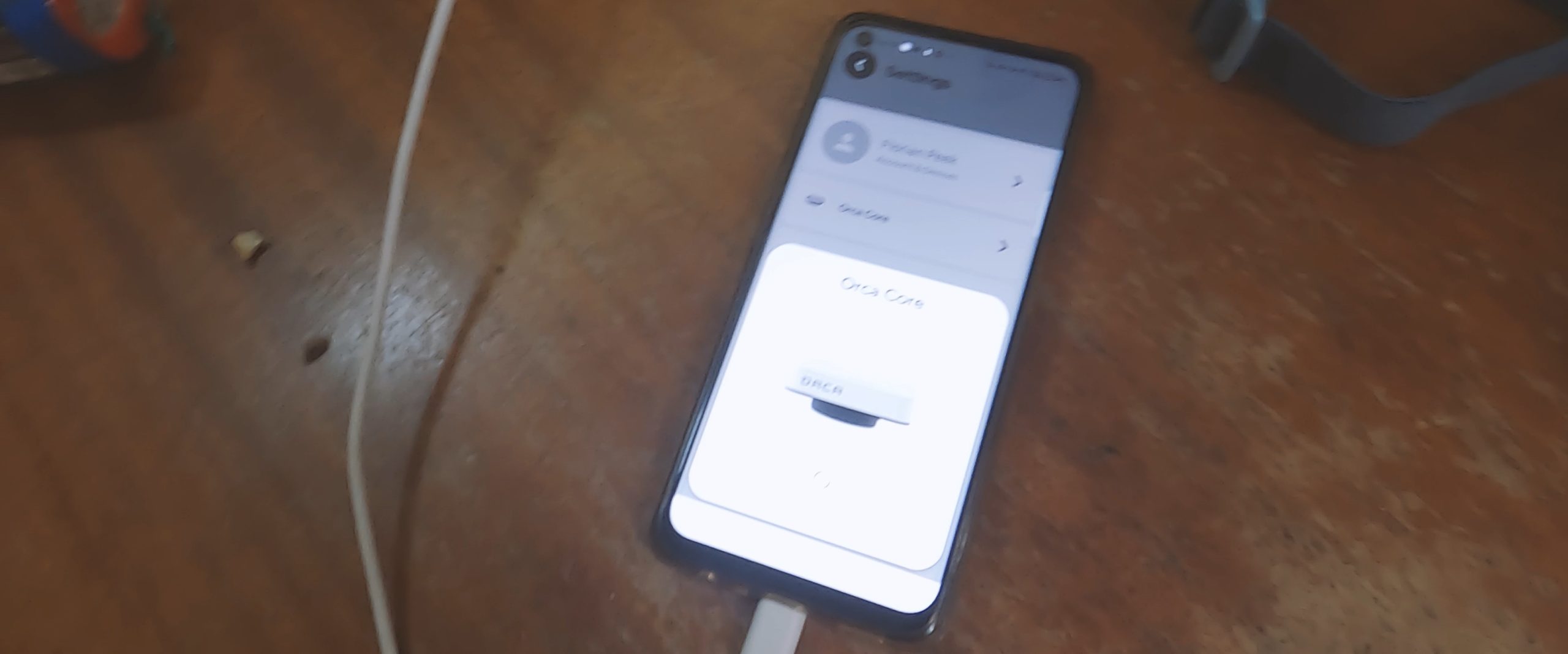 Getting everything connected:
Once it's up to date and ready for use., Orca automatically recognizes all the compatible devices and data inputs on your nmea2000 system. If there are duplicate inputs (for example, if you have a separate GPS antenna), you can easily select the desired data source to use in the settings menu. This allows you to switch between the built-in Orca GPS antenna and your previously installed antenna, etc…
Orca automatically adapts its functionalities based on the inputs you have. If you don't have specific data inputs on board ,but you do have an internet connection, Orca will automatically use available internet data, for AIS and local weather info.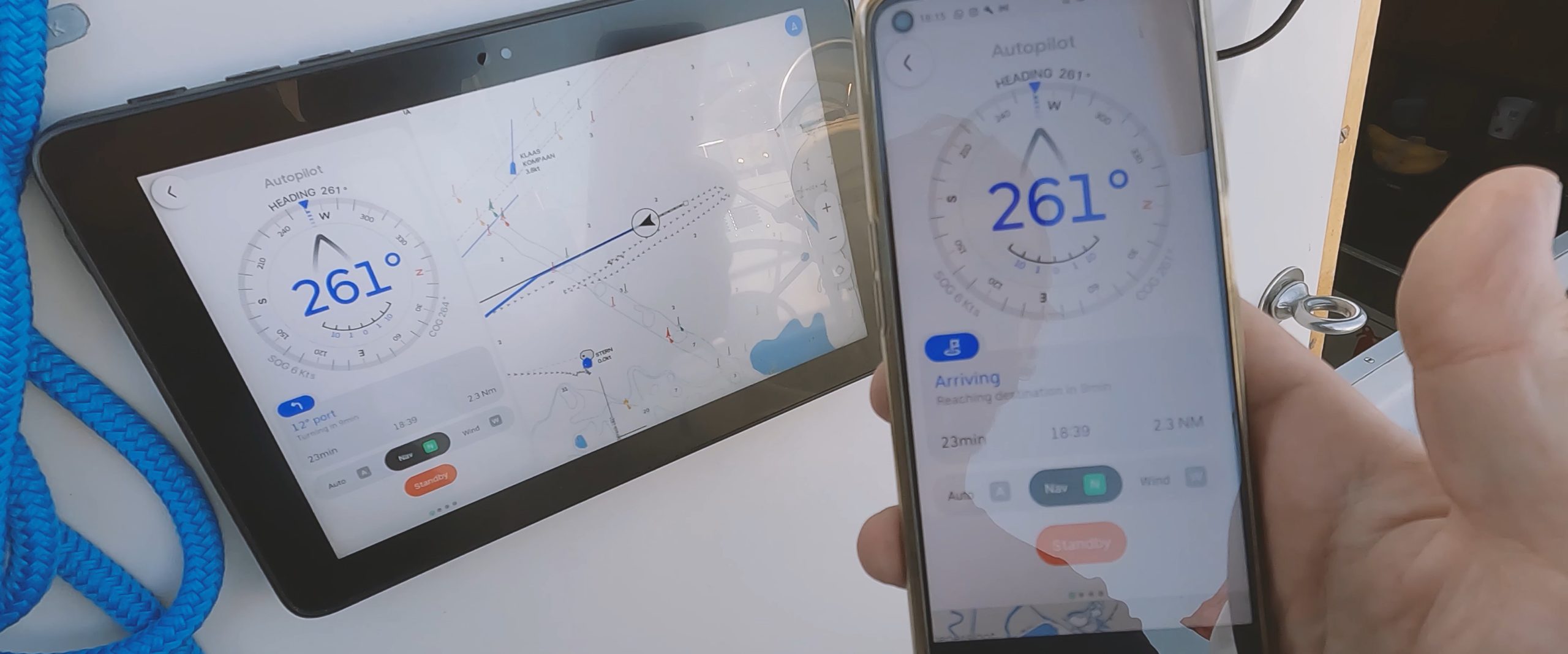 Using the Orca plotter:
All the functions we describe below are available on both iOS and Android devices, including tablets and smartphones. The only difference is the screen size, which may result in slightly different layouts. However, the functionality remains the same on every device.
The basic map layout is straightforward and clear, resembling a traditional sea-map style  more than most other plotter maps. Important items on the map remain visible even at higher zoom levels. Orca achieves this by making details smaller on the map instead of omitting them, making it less daunting to trust higher zoom levels. Nevertheless, it is still crucial to carefully examine the maps to avoid overlooking important details.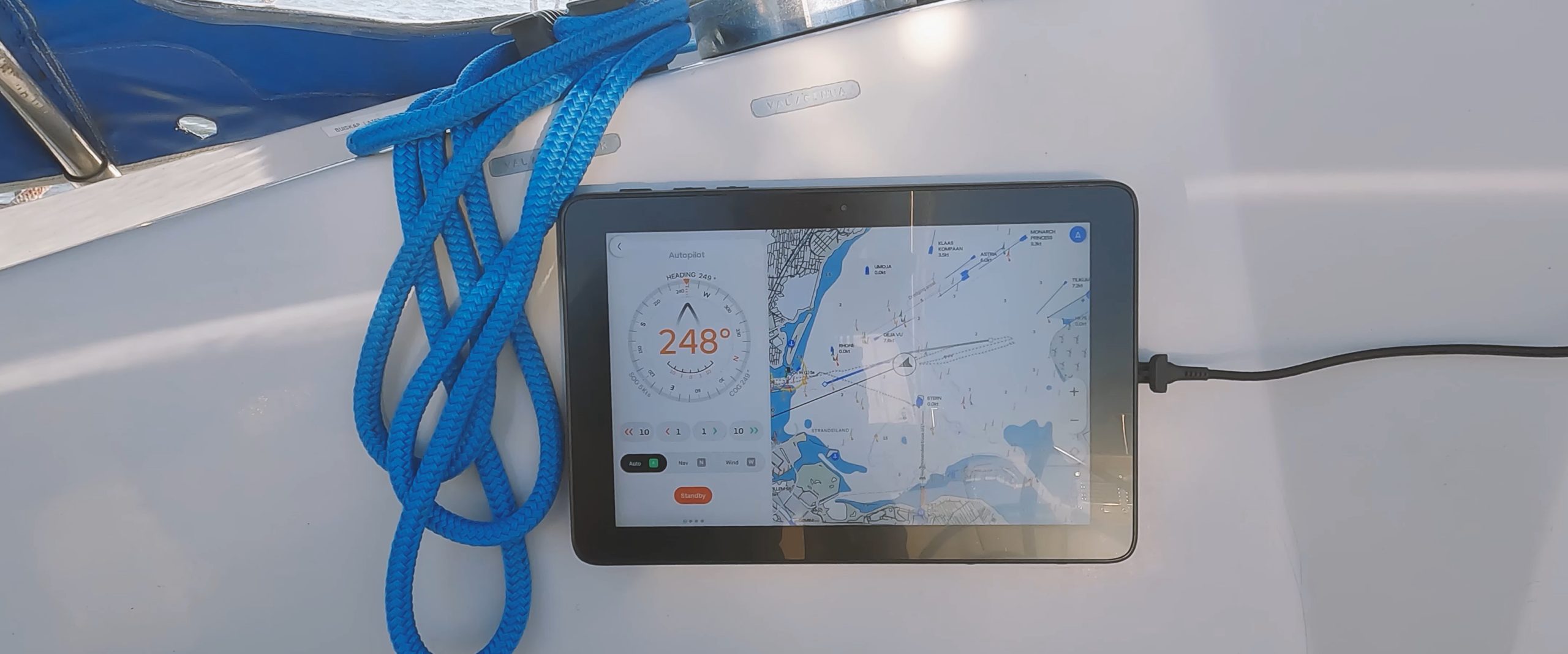 Orca has three basic modes for running the autopilot: Compass mode, Navigation mode, and Wind mode. It also offers three different plotting modes: Engine, Sail, or Custom. So with Orca, you can calculate the optimal route by motor (shortest route through the water), by sail (using weather routing and your polar to calculate the optimal route), or create straight lines between custom way-points that you set yourself.
To set a route, you simply need to long-tap the map at your desired destination. Orca will ask if you wish to navigate to the place you are tapping. After confirmation, you can choose to use either the Engine, Sail, or Custom plotting mode.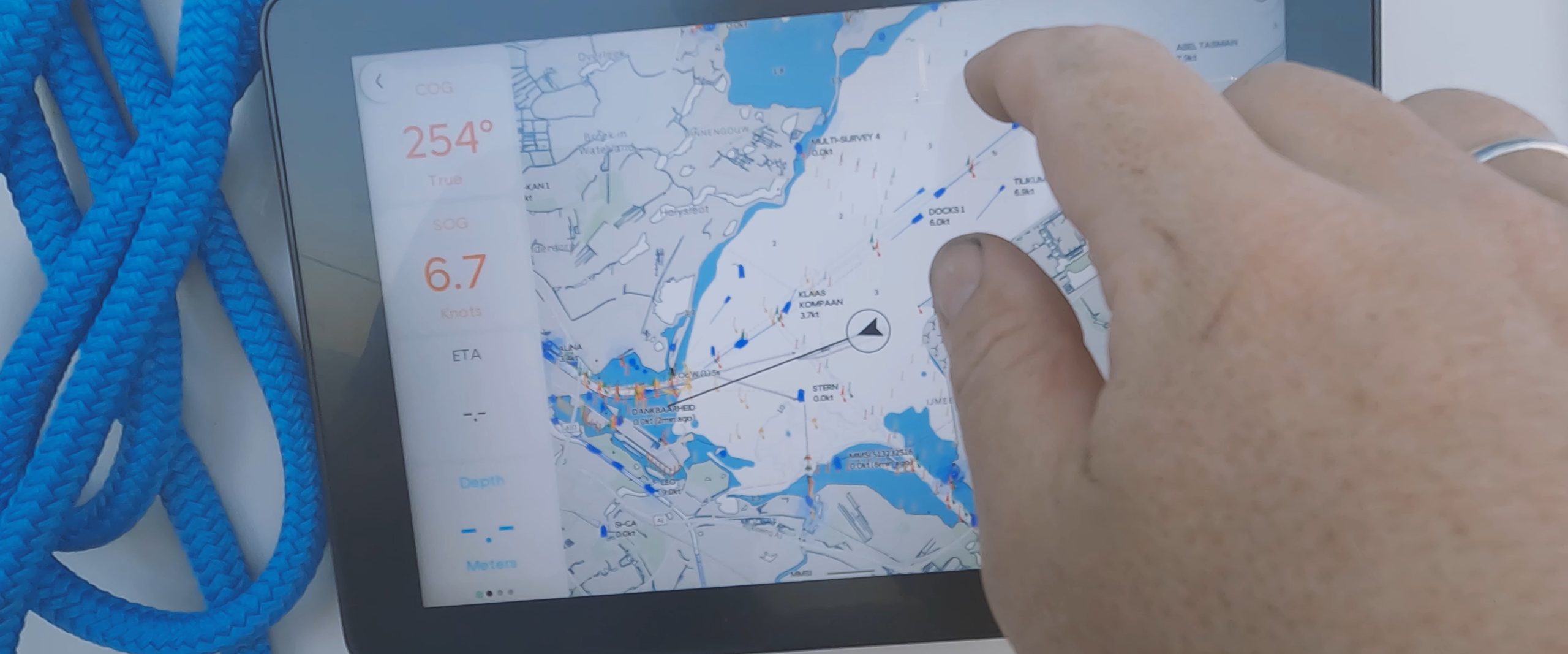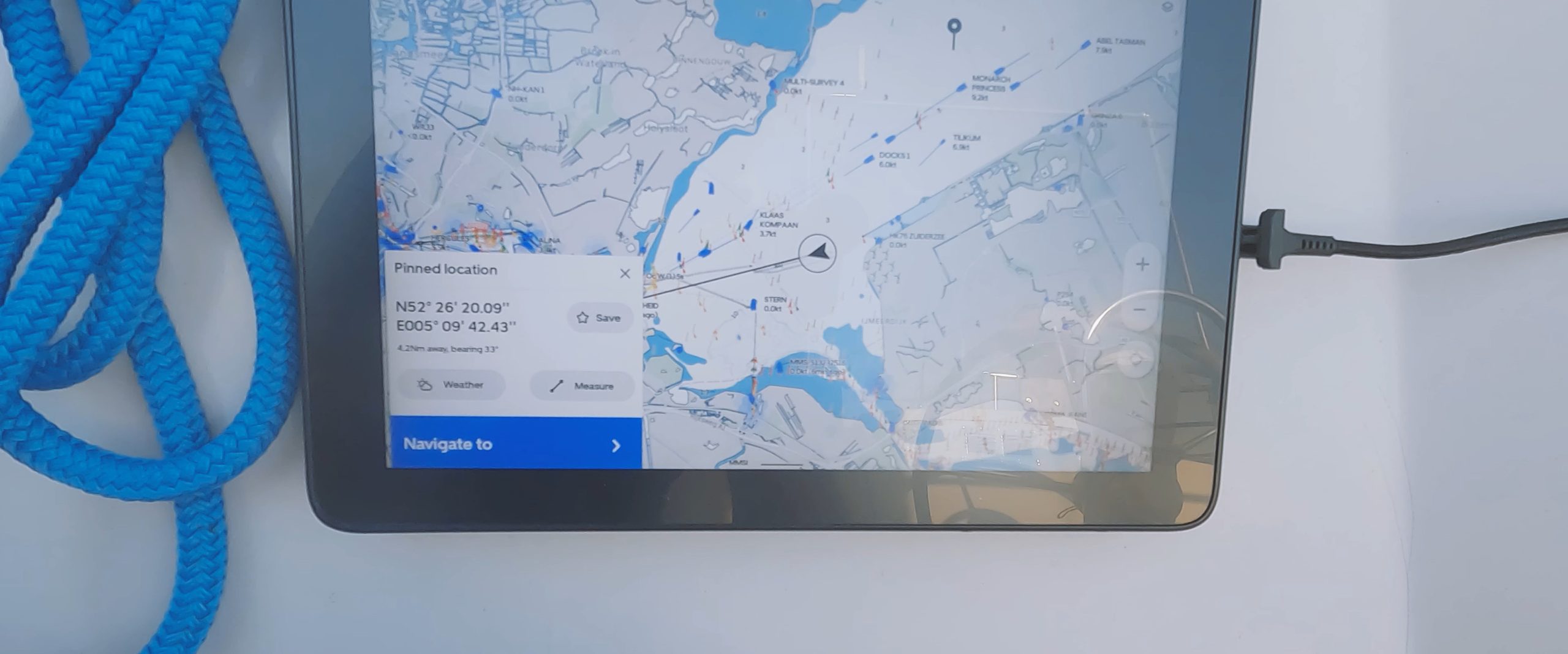 The Orca plotter is very fast at generating a course. While some apps like Navionics can sometimes take multiple minutes, Orca typically takes just a few seconds to draw your route, even when calculating sailing courses using weather routing.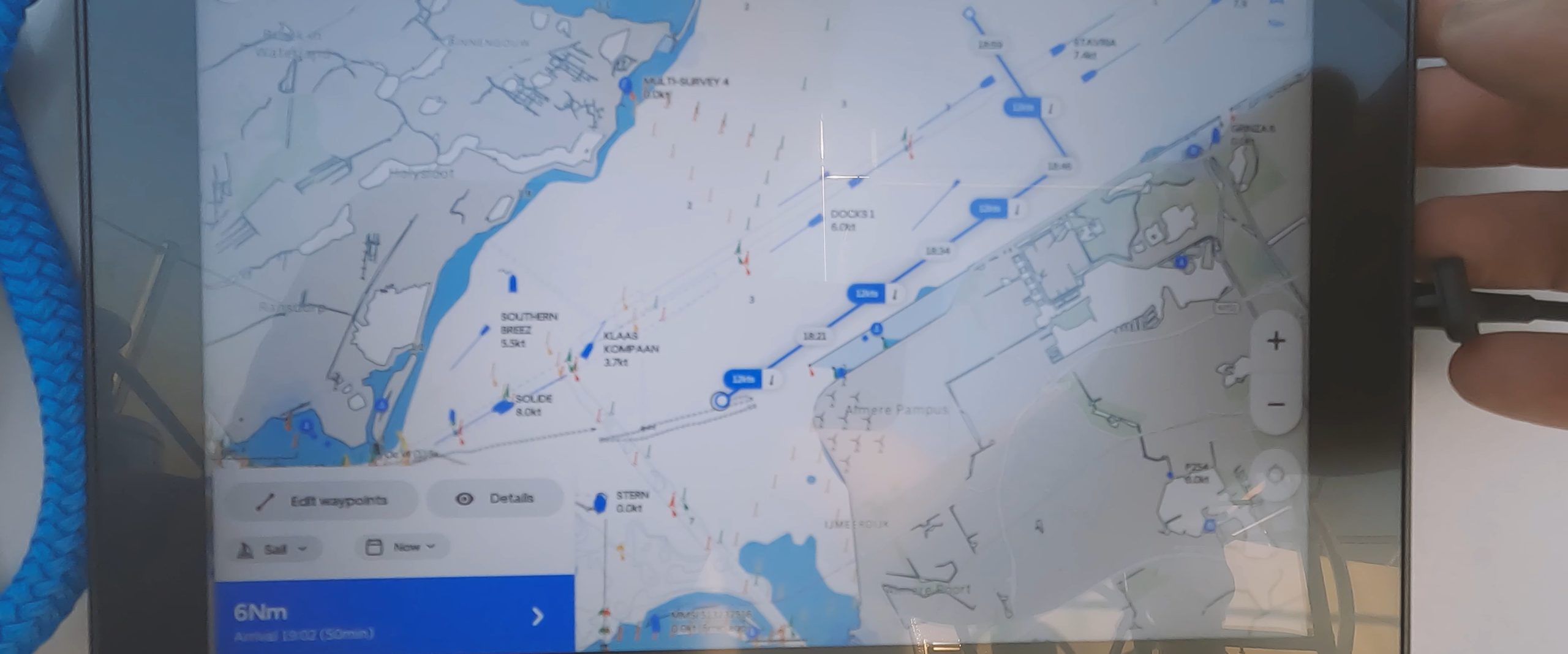 Once you are satisfied with the generated course, you can approve Orca to activate your autopilot and steer your boat on the intended course by switching from Compass mode to Navigation mode.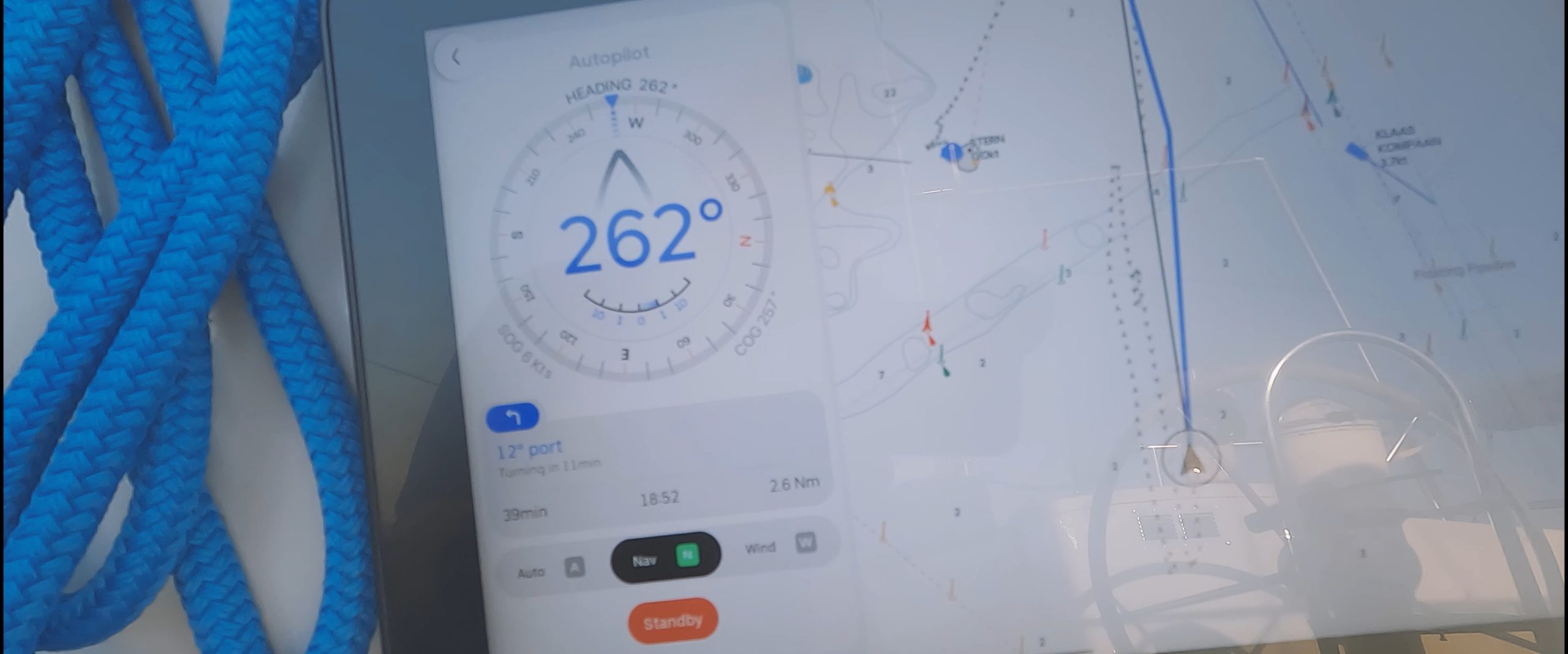 A considerate sailing pilot:
The Orca plotter is aware that, while in sailing mode, it should never make abrupt course corrections when entering Nav mode (which could result in a Chinese gybe or unintended tack) So, even if your next lay-line requires a 90-degree turn, upon initiation of the autopilot, it will instead maintain your current heading and gradually navigate you onto the new course path or (if its a very big turn) it may ask you to confirm that it is about to make a big turn. Just to make sure you are aware that the next move by your auto-pilot will likely necessitate a gybe or tack.
Orca also has the ability to let you pre-approve the next course correction to the next way-point up to 60 minutes in advance. This is very convenient because instead of asking you if it's okay to turn and immediately executing the turn (as most other plotters do), Orca allows you to pre-approve the next turn up to 60 minutes in advance and then displays a countdown. This gives you ample time to prepare yourself, in case it involves adjusting your sails, or performing a tack, or gybe. Once a future turn is approved, Orca will continue counting down, and once the countdown is finished, it will initiate your pre-approved turn. So, there's no need to rush from your autopilot controls to your winches immediately after approving a turn, which is ideal for solo sailing!
The fact that all of Orca's functionality is available on your phone effectively turns it into the ultimate boat remote control. On our 12m ship, the Wi-Fi and Bluetooth signals are strong enough to cover the entire vessel. Whether we are at the bow or the stern, we can easily switch to a completely new course, view the maps, adjust the autopilot by a few degrees, or check any of the instrument inputs connected to the system, including wind-speed, engine temperature, polar performance, V.M.G, battery voltage, etc.. It's full access from anywhere on board.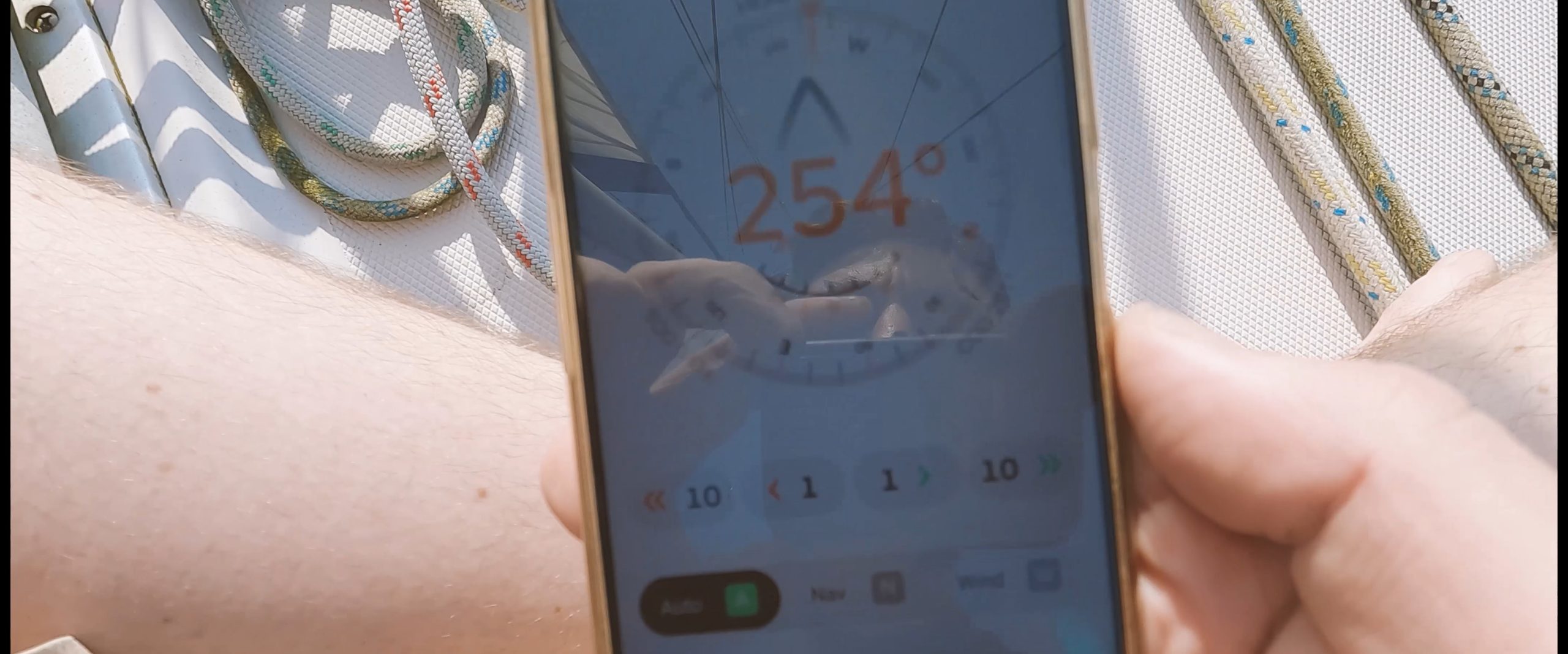 Another cool feature is that you can simultaneously run multiple devices, and they all function as one cohesive wireless device. So, if I change the destination on my phone, it simultaneously updates on the Display 2 and my tablets. The app truly functions as one system across all the devices linked to your core, ensuring that all your devices are in sync at all times.
You can customize every screen:
The navigation home screen is fully customizable, allowing you to add or remove instrument inputs and choose their order and location on your screen. To do this, simply perform a long press on any instrument. You can then move the instruments around, delete them, or add others from a list of all the inputs available on your system. This process is fast and easy, making it enjoyable to switch the layout based on your sailing needs. For example, if you're motor-sailing during the day, you may not be concerned about your battery levels, so you can omit the related metrics. However, if you're sailing at night, you might want to add the voltage of each battery to your main screen to keep a constant eye on it, helping prevent your batteries from running low by running your generator in time. I've found that one of the real joys of using the Orca system is customizing my navigation screen before or during each trip, based on the specific requirements of the journey. I usually display 4 to 8 instruments at a time, but you can add as many or few as you like.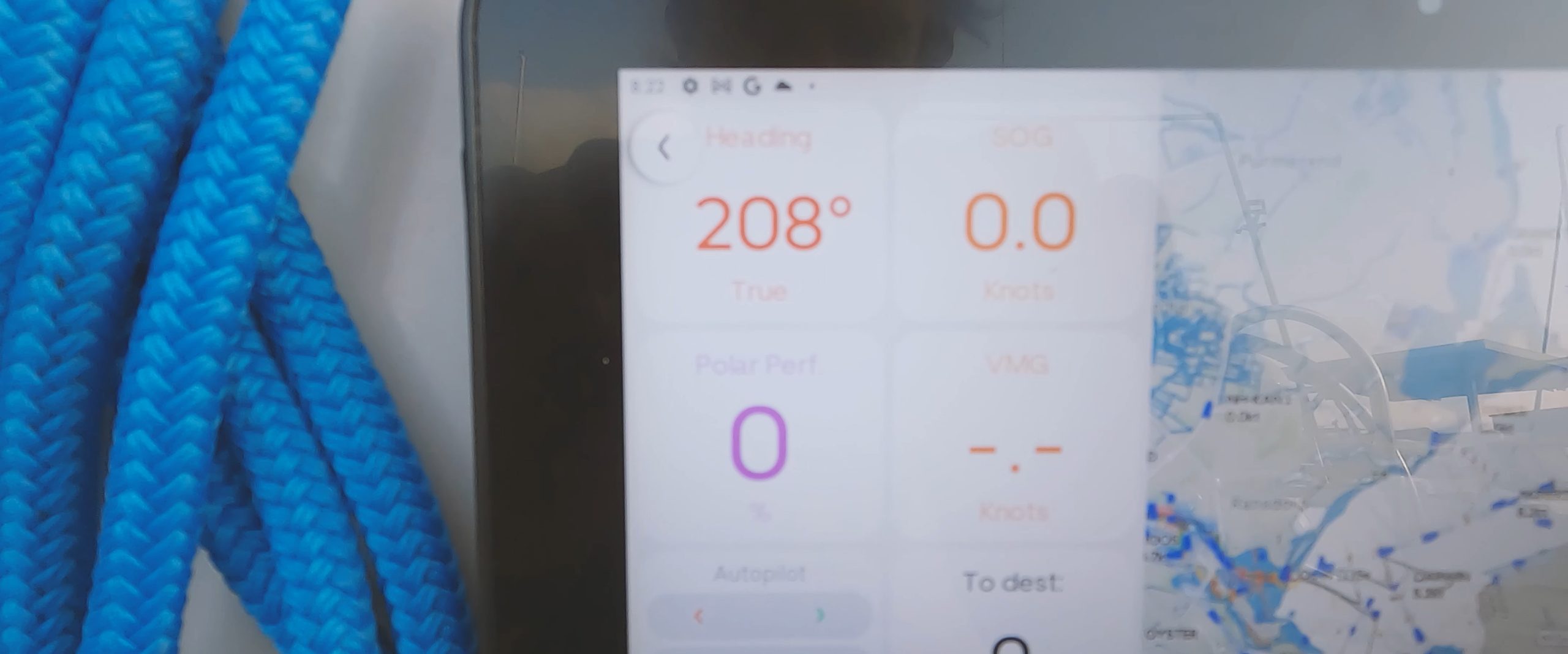 How about map accuracy?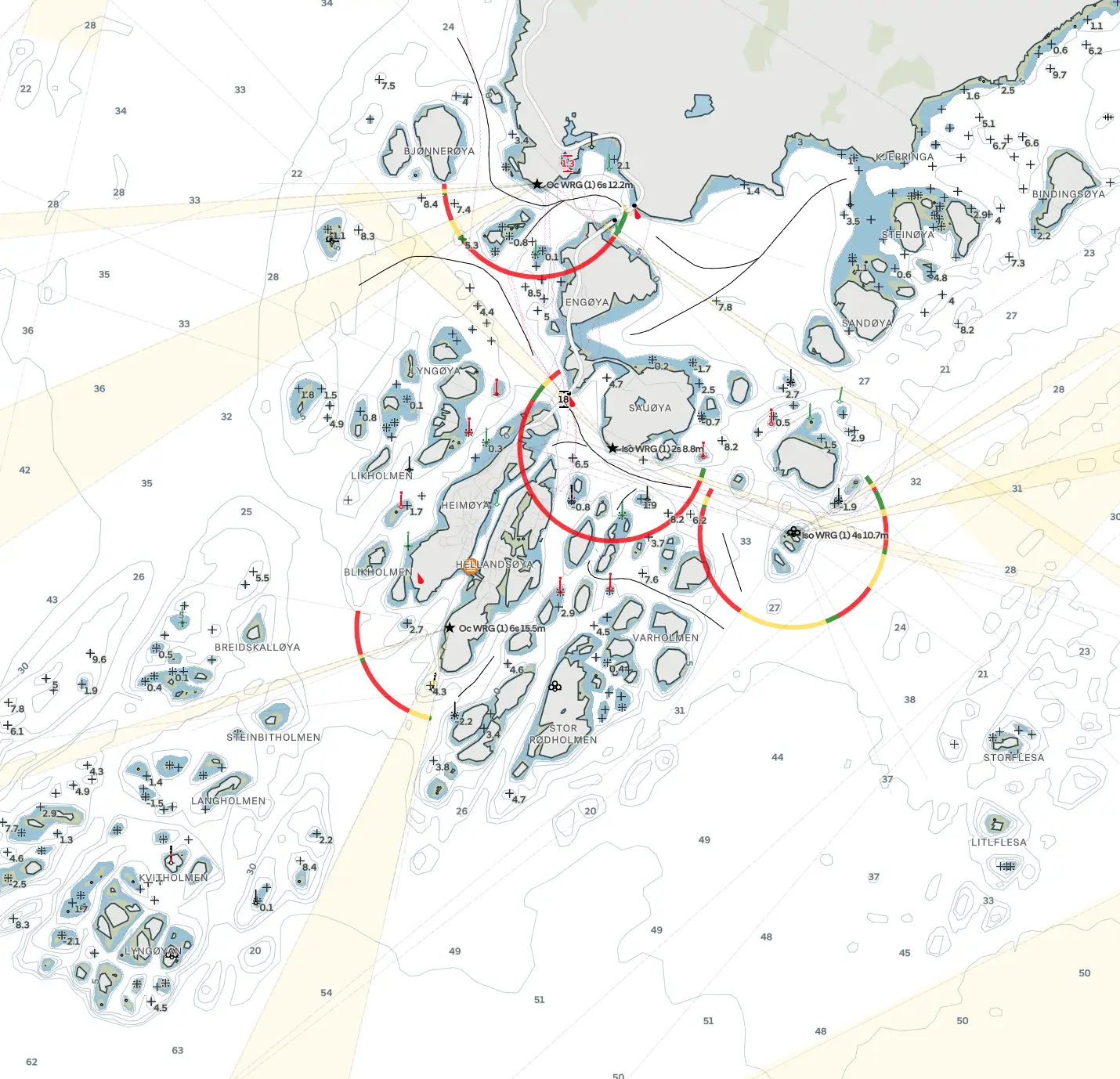 Orca utilizes official oceanographic sources as the foundation for its maps. Additionally, it incorporates data from its user-base to continually improve the accuracy of its maps over time, similar to what Navionics does. However, since the user-base of Orca is still growing, this feature will enhance as more users contribute. My assessment of the maps is based on personal experience only. As an active sailor who is very familiar with the major Dutch waters, I found the Orca maps to be accurate and easy to interpret. Having been a previous user of Navionics, it only took me a single day trip to adapt to Orca's style. Initially, I compared my Navionics maps with the Orca maps often, to double-check, but I never encountered any significant errors or missing information. After sailing with Orca for several months, my trust in the accuracy of the Orca map is comparable to the trust I've always had in using Navionics (trust but verify). However, it's worth noting that map accuracy can vary from country to country and region to region. Orca has received awards for map accuracy in certain Scandinavian countries like Norway, indicating exceptional quality in those areas.
How about power consumption?
The Orca core itself does not appear to consume a high amount of power. However, running the Orca app on a tablet or phone does consume a significant amount of power. This is expected since plotters perform thousands of complex calculations in real-time. Just like any reliable plotter, Orca requires a substantial power supply. Regardless of the device you use to run Orca, it's essential to monitor the battery level and charge it regularly to avoid running out of power.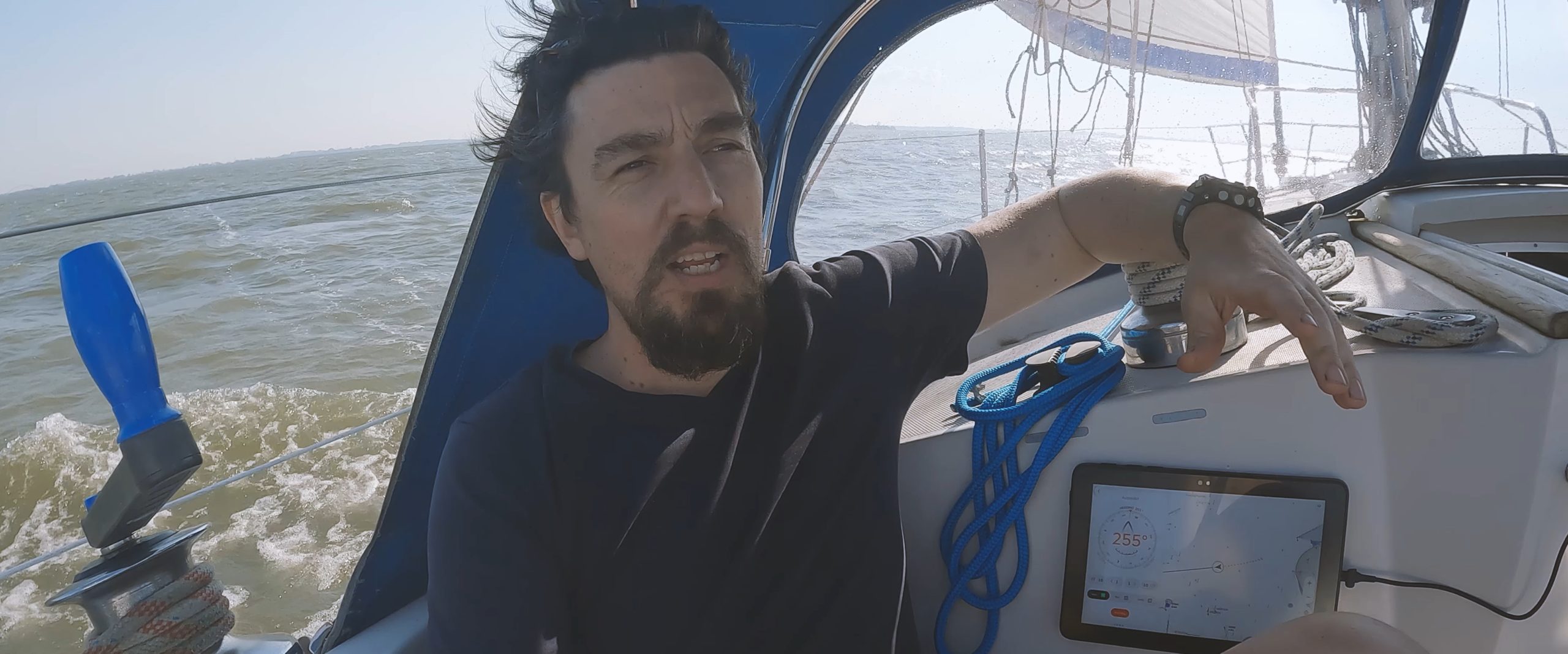 In my experience, I have been able to keep all three of my tablets (iPad, Samsung Pad, and Orca Display 2) and my phone powered and running Orca during a 24-hour sailing trip. To achieve this, I make sure to switch the screens to standby mode (screen off) when not in use and plug them into a charger whenever possible. The Orca Display 2, in particular, has an impressively bright screen. Even at 60% brightness, it appears much brighter than my Samsung or iPad at their highest brightness settings. However, this brightness comes at the cost of power consumption. If you want to keep the Display 2 on continuously at full brightness, you need to use the cradle or another high-powered USB-C charging connection (with at least a 3A or higher amperage). Otherwise, the Display 2 will run out of power after 4 to 8 hours of use, even while charging!
However, one thing you don't need to worry about is your autopilot failing if your tablet or Display 2 runs out of battery. The Orca core will maintain your course, and you can always take control using the physical control buttons on your devices whenever you desire. Once you recharge and turn on your screen device again, it seamlessly continues from your current situation. As an example: if I'm following a course in Nav mode and my Display 2 runs out of power and shuts off, my autopilot will maintain the course. Now, let's say I decide to switch to compass mode for a while (just using the physical buttons on my Raymarine auto pilot controls) and adjust my course by 5 degrees. Once my Display 2 comes back on, it will sync with the current situation. It may still display the previously plotted and intended course path (if not deleted), but it will indicate our current position, that we are in compass mode, and that we are sailing 5 degrees off the previous course. In this way, the system functions as one cohesive unit.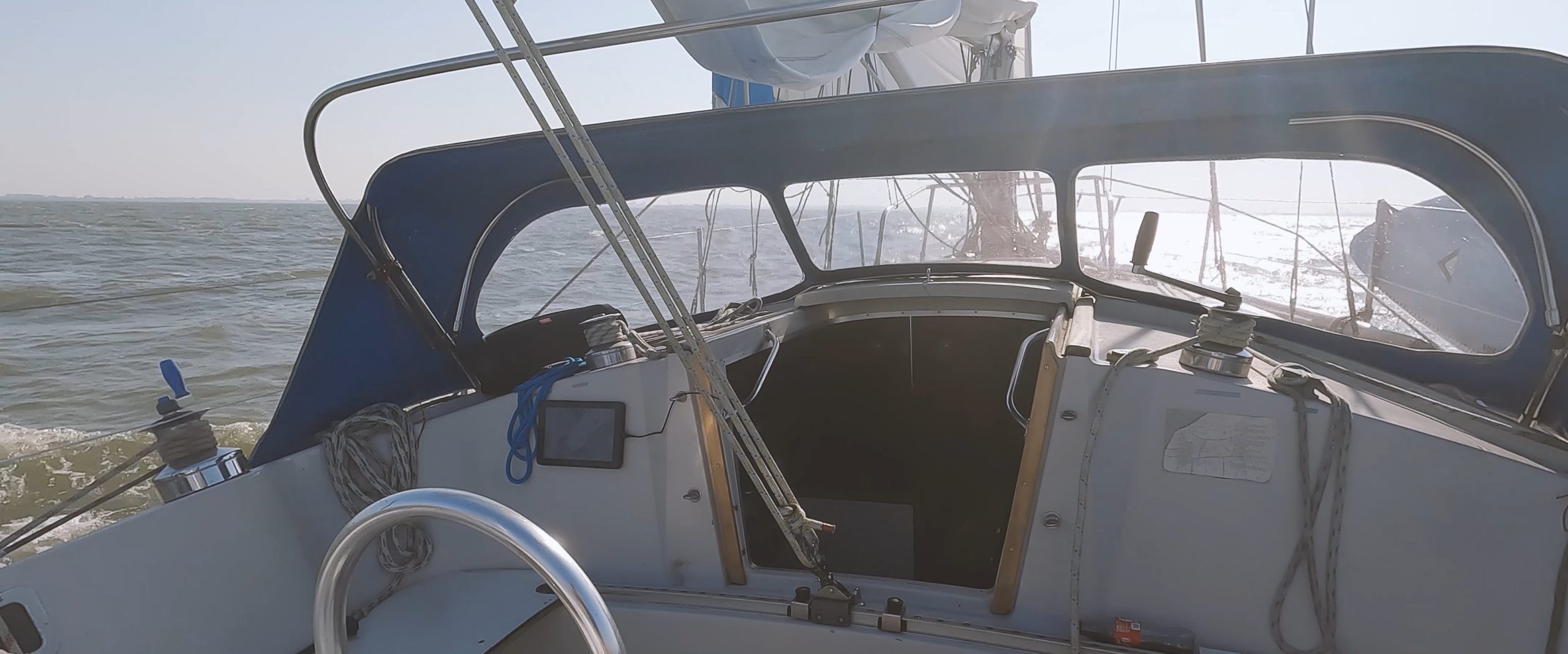 Using Orca with multiple tablets and my phone really helps alleviate any concerns about running out of power on any single device. If one device's battery is running low, I can simply switch to another tablet while I recharge it. This way, I ensure uninterrupted access to Orca's functionality and navigation tools throughout my sailing trips.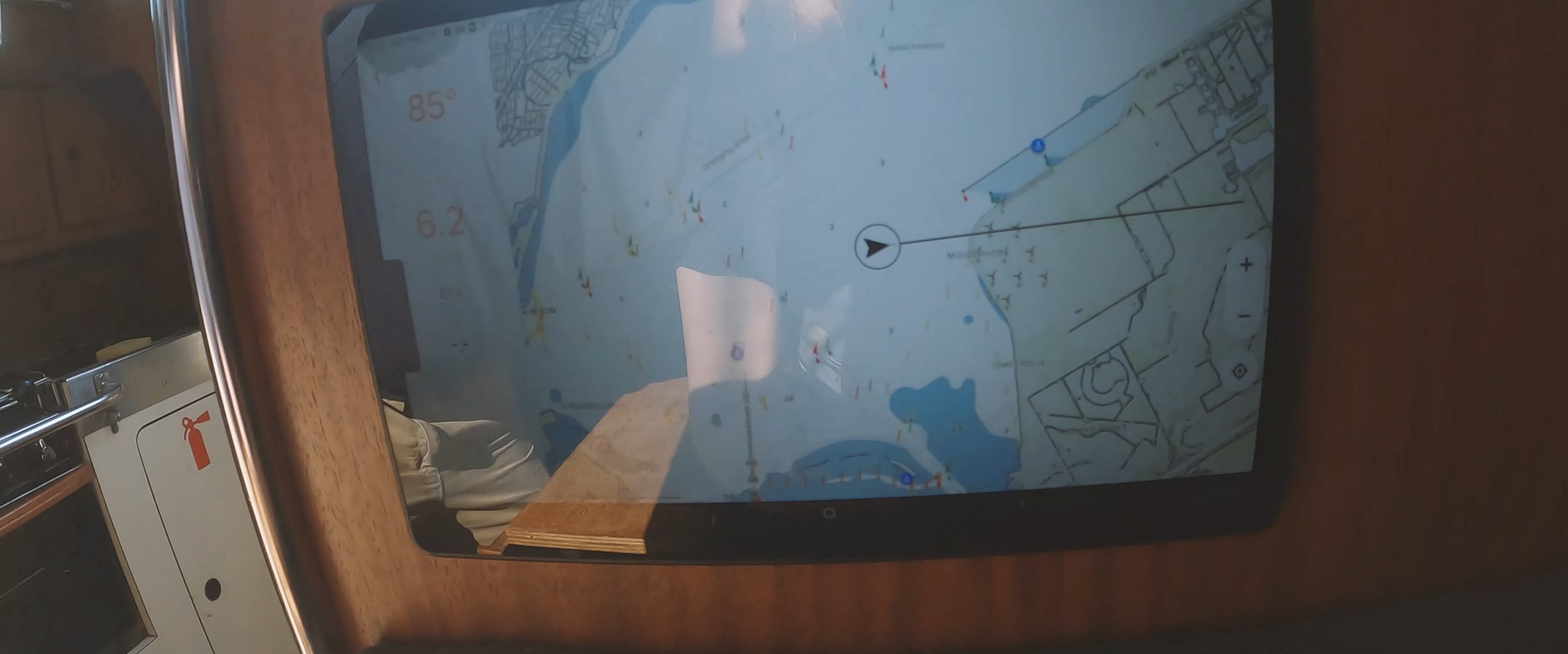 Personally I have not installed the cradle because I like having all my screens on board attached with Velcrow only, making them easy to move around depending on where I'm spending my time on board. I have multiple places on deck and in each cabin where I can attach any of my tablets at any time. I do have a usbC charging cable near most of those places so I can keep my tablets charging continuously. For my personal use with Orca, this setup has worked excellently.
It can't be all rainbows and amazingness! What didn't work?
The main challenge is the power usage of the app. So you need good options to charge your tablets and phone on board.
We were using the AIS function via the internet. This updates every 15 seconds, which is fairly slow. (If you have an AIS transponder on board, you can set this faster).
Map depth shading based on the draft of your boat can only be set in 0.5 increments. (So you can tell Orca that a shallow area for your boat is either: 1m – 1.5m – 2.0m – 2.5m – 3.0m, etc., deep). Because we sail some places that are 1.85cm or 2.05cm deep, with our draft of 2m, we had to set this metric to 2.5m to be safe. But this means that some areas, which may be 2.3 or 2.2m deep, will appear as too shallow in the color scheme on our map, when they are actually not. We did tell the devs this, and they are working on changing this so you can set it using 10cm intervals.
The app uses two buttons on the top corners of the screen to access options and settings. These can sometimes be a bit fiddly if you have big fingers, making you go to the home screen of your phone or tablet instead of the settings page.
Radar integration is currently not available yet but will arrive soon. Orca will have the option to display your radar data inside your Orca plotter map, but some of the advanced options you may have inside (for example) a Raymarine plotter, things like movement color shading, collision trajectories, etc., are still a while off.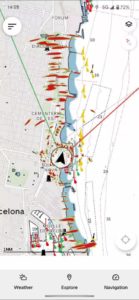 As our conversations, testing, and giving feedback with the Orca dev team started, the team opted to loan us a Developer version of their Display 2 because they also wanted us to test some new features they were working so we could provide them with our feedback/input on these. So we have been running and testing both the stable and developer versions of the App and Core. And we have also sampled some upcoming features that will be coming out over the next few months. So we know there are many other interesting functions coming, but we choose not to share or tease any of these, as there is no telling if and when certain functions may actually come online. So we will stick and report only on what is working and not working right now for this article.
Then there is the sailing processor. We will give a short description of it below, but this topic is so large and interesting that we have chosen to make a separate video and article about this:
In the realm of sailing science, the most important information sailors care about is True Wind Speed and True Wind Direction. Knowing True Wind, you can keep track of wind shifts, derive lay lines, and measure your sailing performance against your Polar Diagram. It may sound trivial to calculate True Wind accurately, but it is a complex process that involves a lot of math and fine-tuned calculations.
To calculate True Wind accurately, you need a Sailing Processor. Traditionally, Sailing Processors have been expensive and complicated tools that are aimed at professionals and the most technology-oriented sailing enthusiasts. But the Orca Core is actually also a sailing processor.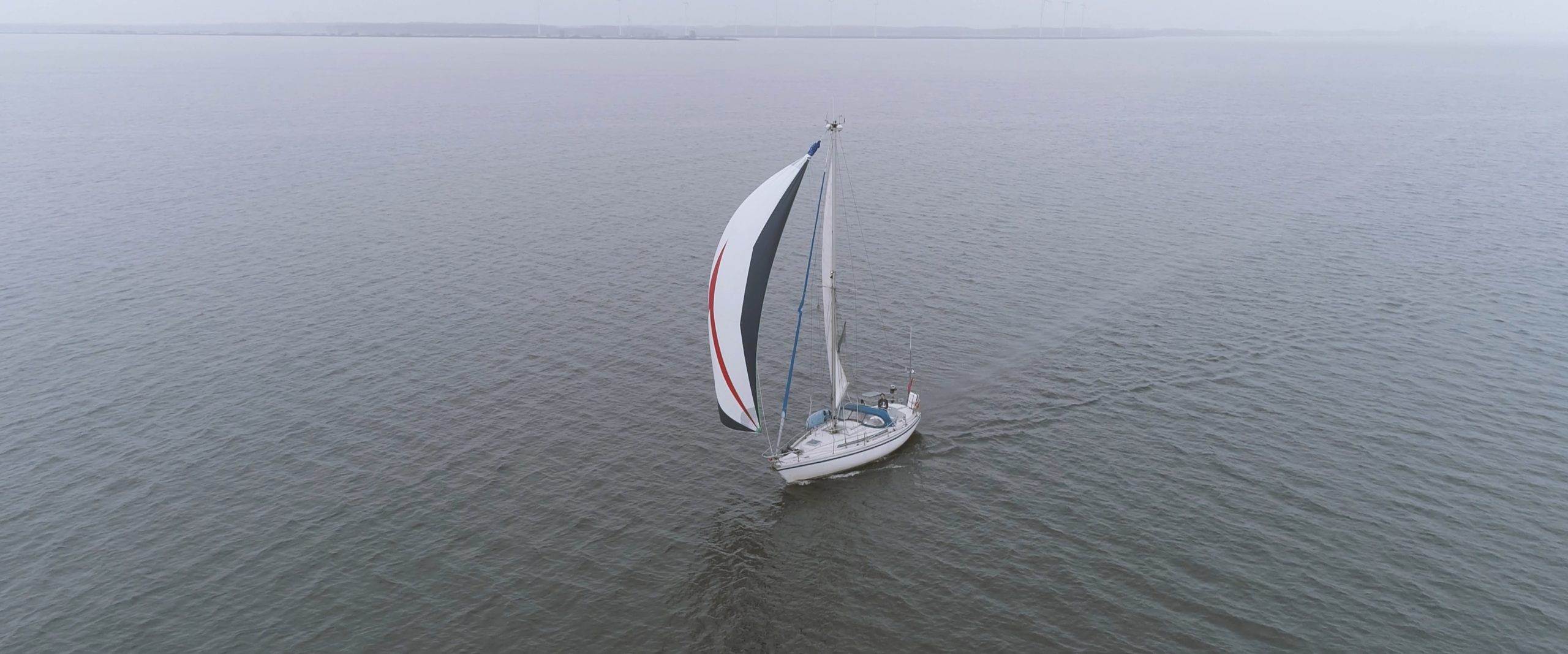 Measured Wind is the wind that your wind sensor experiences. It is affected by several physical phenomena, which in turn makes it unrepresentative of the wind that your sails are experiencing. On top of this, your Speed Against Water sensor, which is used to calculate True Wind, can also be unreliable.
To get accurate wind information, you'll need a sailing processor that compensates for the effect of several phenomena:
Upwash
Heeling and wave-induced mast motion
Downwind Acceleration
Wind Gradient
Leeway
Non-linear Speed Through Water sensor
In an upcoming video, we will show how this works and how the Orca pilot uses this to generate Polar performance stats, V.M.G. stats, etc., which are metrics that you normally mostly see on race-boats. If you have a wind sensor and speed sensor on your boat, Orca will generate these metrics for you, which is a great USP. But more on that in a separate video and article.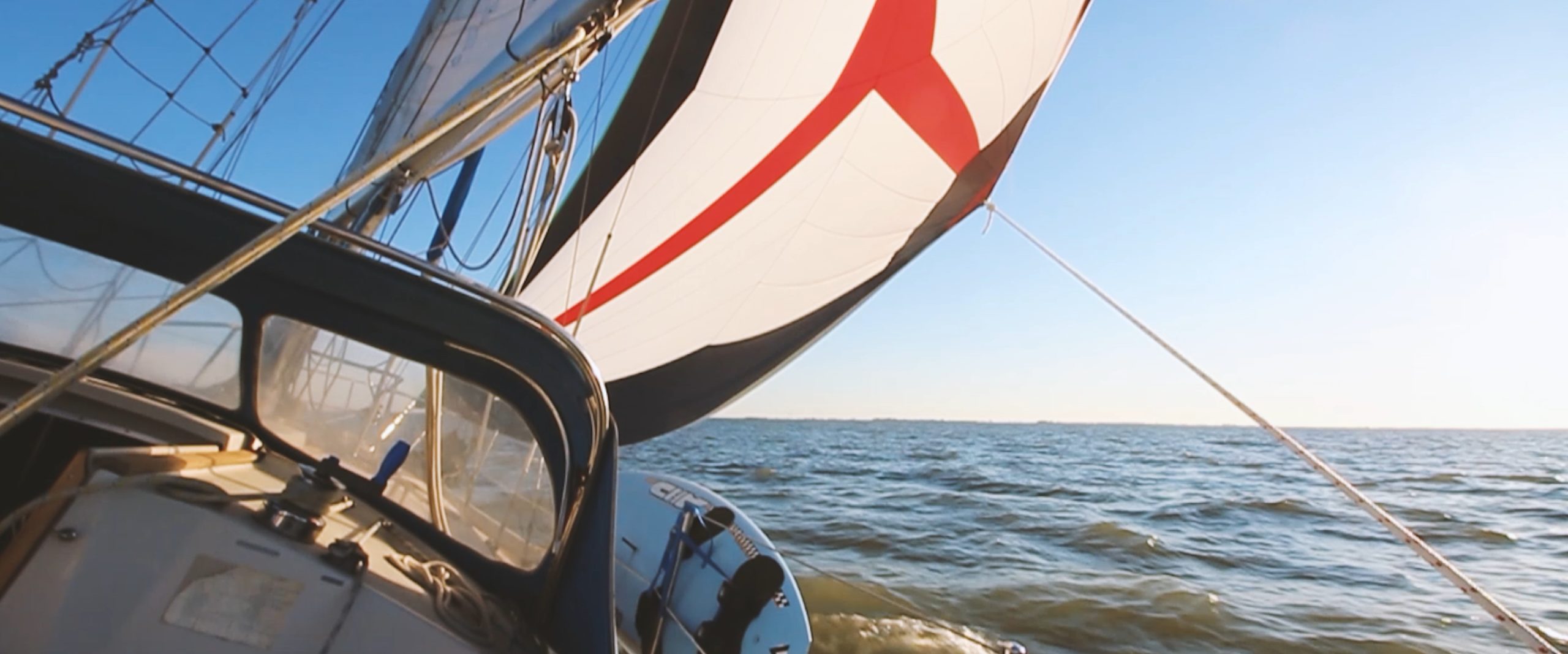 Our conclusion so far:
The Orca pilot (core + app) is a groundbreaking piece of sailing technology.
We think you have to experience using it in order to truly appreciate just how much more flexible this is compared to any of the major plotter systems on the market.
The easily customizable navigation screen and the way in which it transforms your phone or any tablet into a remote control for each and every device that is hooked to your NMEA2000 network is absolute Star Trek-level coolness.
The price is very good, taking into account that a standard remote + transmitter for any of the major systems gets you a plastic box with 8 buttons and costs more than double the entire Orca Core system. So this function alone seems to be worth the price of the entire system.
The installation is simple and does not require any major tech know-how. If you have an existing NMEA 2000 backbone, installation will take less than 20 minutes.
Functionalities and small improvements are added frequently (updates are weekly).
Power consumption is your biggest challenge when using Orca. You will need adequate (3A or higher) charging options on board.
The Display 2 is an exceptionally bright tablet and provides a lot of processing power to make the plotting experience fast and seamless, but it does not provide any other additional features, so it is an entirely optional piece of tech. The app runs entirely the same (just a bit slower) on any other tablet. If you sail often in very bright sunny areas, it is a great addition!
We have not tested the Orca plotter on any long (multi week) passages crossing country borders, so we cannot offer any insights into its suitability for international cruising at this moment in time.
Both basic and all advanced functions are free on the app for the first year. Advanced functions are paid through a subscription model after the first year (costs 11,- per month currently).
Do you recommend installing the Orca system?
Yes! If you are an active sailor, sail solo or do active chartering, we think this system will give you some amazing options that are just not available on any other system in the market, or at least not at such an affordable price. Even if you just use it for the remote control options and to have an extra back-up plotter system, it's well worth the price.
You can learn more about the Core and Display 2 by visiting the Orca website.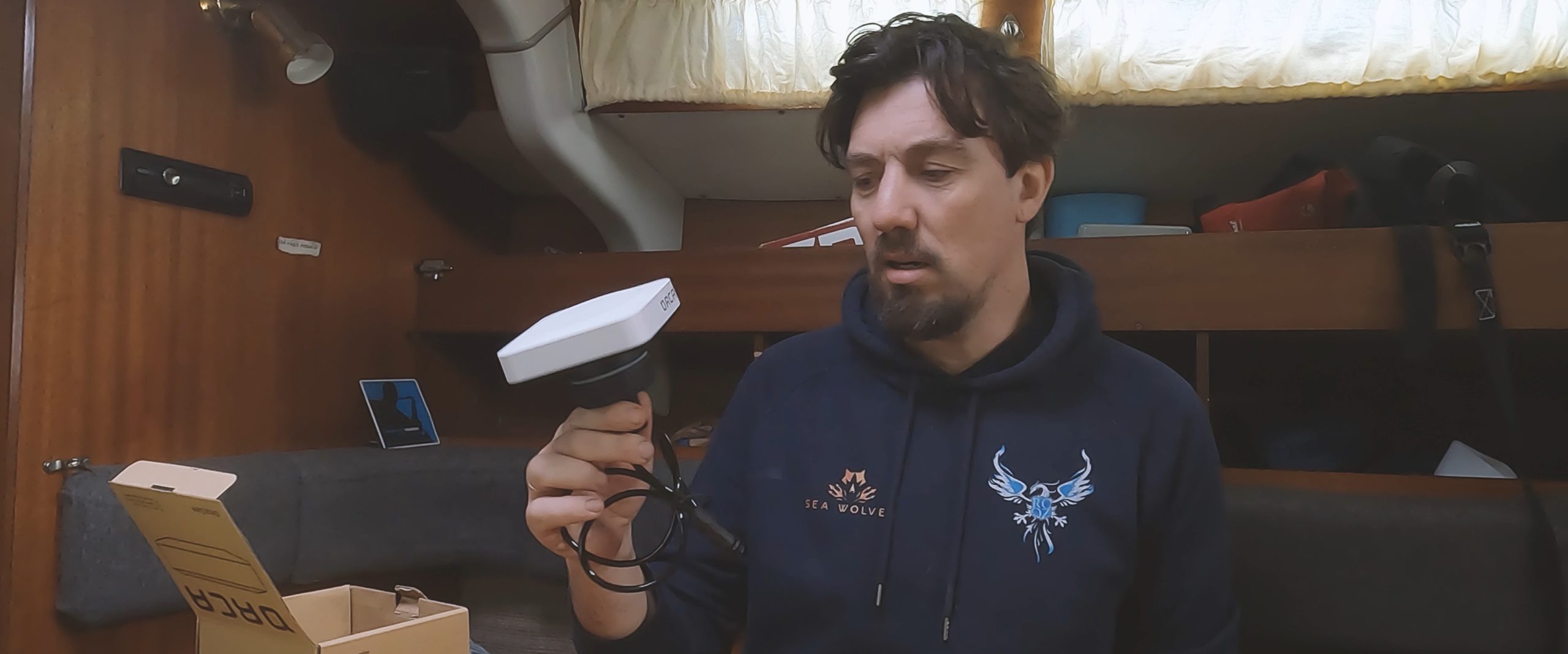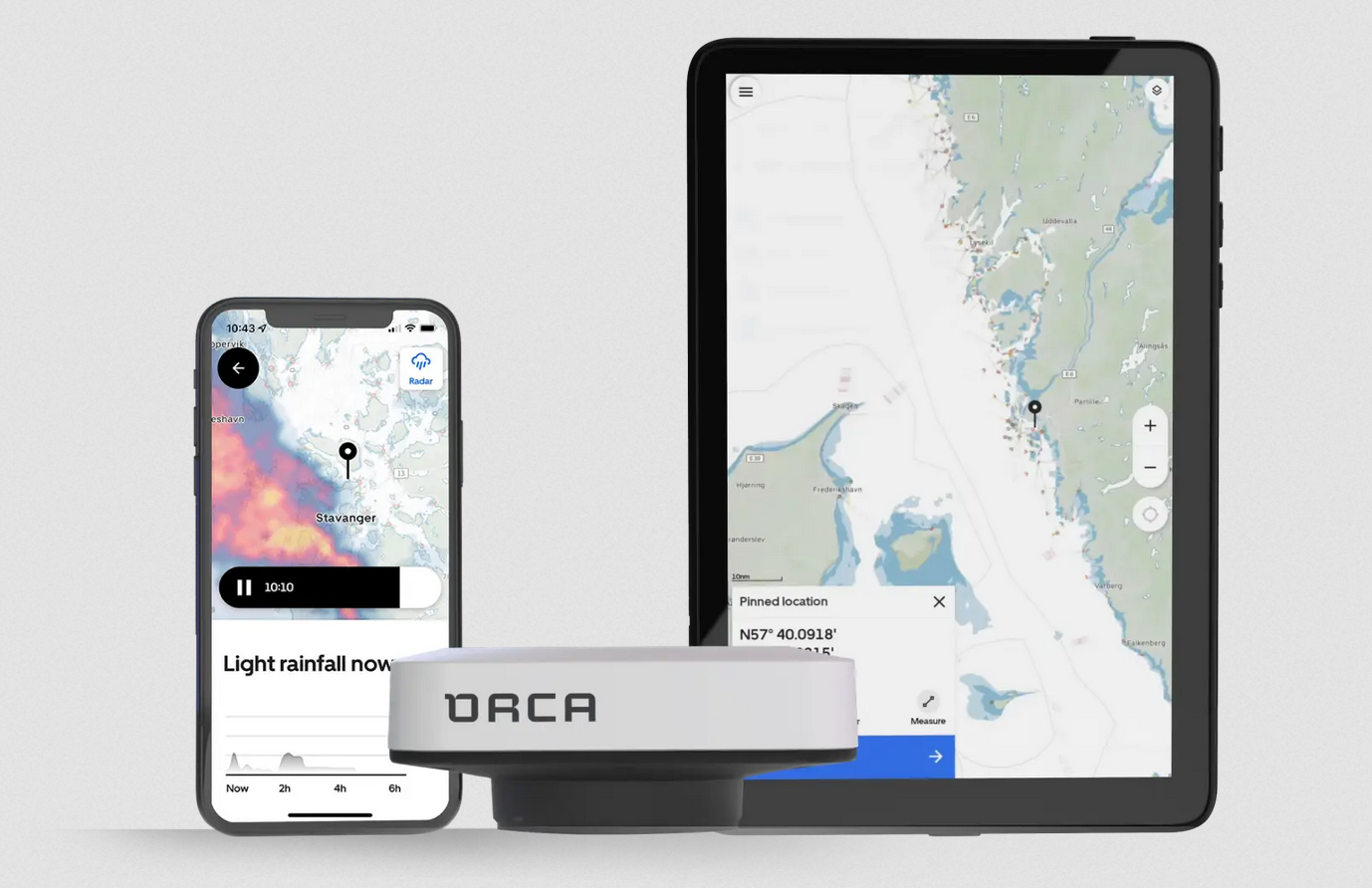 This review was made entirely on our initiative. We approached Orca because we thought their system looked promising and we wanted to test it. As the value of our feedback quickly became apparent to the devs at Orca, they provided us with an extra core and developer version of the Display 2 so that we could also run and test some features that were still being developed. Orca did not try in any way to influence this review, and they did not receive any options to alter or veto any part of this review. Because we genuinely love their product, we have chosen to partner with Orca via an affiliate relationship. Because we believe other sailors will have a similar experience to ours and will likely enjoy the system very much. So if you use the links to the Orca website on our site or let Orca know in any other way that you learned about their system from us when you buy one of their products, we may receive some information or some type of compensation from Orca in the future.